2017 Toyota Land Cruiser Model Information
You need to get well acquainted with our 2017 Toyota Land Cruiser Model Information if you are planning on purchasing the vehicle. This will make sure that you know the numerous features and functions that the latest Toyota Land Cruiser comes with. Of course, the sales experts at Toyota of Tacoma are always there to assist you and help you out in a systematic way so that you can judge the vehicle after you receive first-hand information about it.


Engine: 5.7L eight-cylinder
Horsepower: 381hp
Torque: 401 lb-ft
Transmission: automatic
Fuel Economy: 13/18 mpg
Go Anywhere in the 2017 Toyota Land Cruiser

It's safe to say that the vehicle truly cruises over land, whether rocky terrains or smooth roads, with ease and offers impeccable comfort, efficiency, and convenience to make your journey more enjoyable. A look at the 2017 Toyota Land Cruiser will make you realize that the vehicle has a full array of high-end off-road handling systems that seal the deal there itself. While kinetic dynamic suspension system maintains optimal traction, no matter how rough the terrain appears to be, it disconnects the sway bar and adjusts the suspension system so that wheel articulation is enhanced. You can ride the latest Toyota Land Cruiser with ease, even on the toughest of terrains and you will still be in control of the vehicle.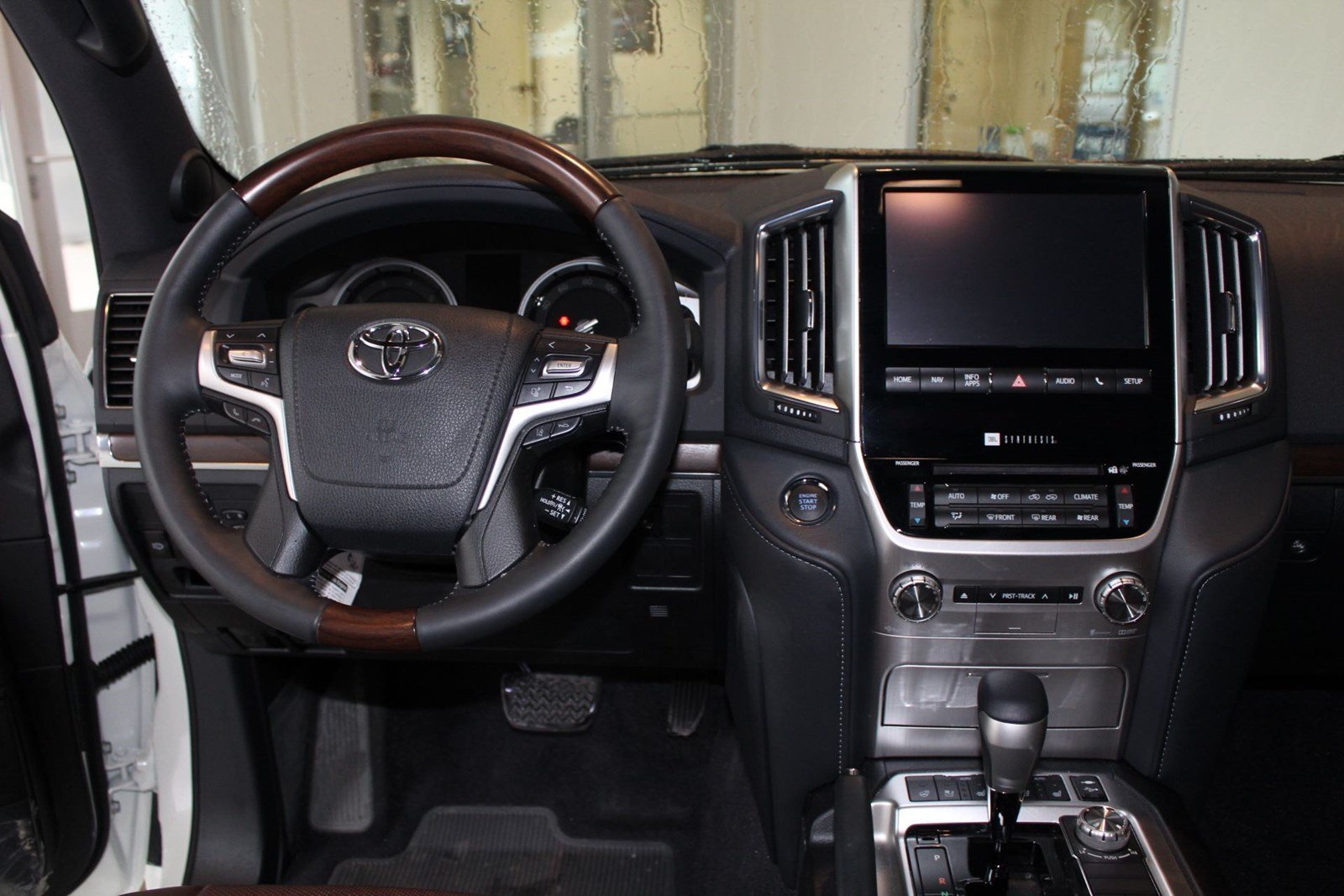 Have you seen the view from behind the wheel of the 2017 Toyota Land Cruiser?
Spellbinding Interior of the 2017 Toyota Land Cruiser

The vehicle's Torsen limited slip center differential is designed to send more power to the wheel or axle with the most traction while the crawl control with off-road turn assist modulates and regulates the throttle as well as brake system on 5-low speed settings so that your focus is not affected when you are maneuvering through tough terrains. Not only will you be fascinated with the toughness of the vehicle but our 2017 Toyota Land Cruiser Model Information will tell you that the interior of the vehicle is truly spellbinding. You will be awestruck by the amazing features it possesses while realizing that comfort and convenience are not taken for granted. While the dashboard is set to help you take command of your next journey, spacious and roomy seating areas make sure all passengers are at ease and comfortable in their seats.

Third and fourth-row seats can be folded to offer 81.7 cubic feet of cargo space while the power moonroof lets you enjoy the starry night sky or cool breeze, depending on your preference. If you have a look at the 2017 Toyota Land Cruiser, you will see that the vehicle is built for power, and with power comes confidence. The DOHC 32-valve V8 engine delivers a mind-blowing 381hp and torque of 401 lb-ft The 10-member high-tensile steel ladder frame plays a major role in enhancing durability and minimizing flex. While the latest Land Cruiser's undercarriage comes with reinforced skid plates that safeguard the fuel tank, radiator, front suspension and transfer case, the eight-speed electronically controlled automatic transmission with intelligence adjusts the speed and incline of the vehicle so that power is delivered in a proper manner.


Seating of the 2017 Toyota Land Cruiser in Tacoma

Our 2017 Toyota Land Cruiser Model Information will let you know that seating for eight can be comfortably arranged as adventurous expeditions often require the help of an entire crew. Multi-stage heated and ventilated front seats and split third-row seats help passengers ride in comfort, no matter how bumpy the ride. An added safety precaution exists in the form of LATCH that safeguards the little ones in the vehicle on a particularly rough ride. This is why all second-row seating positions are included with low mounted anchors on outboard second-row seats and tether anchors while high-end technology keeps you alert and well aware on any excursion you set out on.

Our sales experts at Toyota of Tacoma are always to offer you any assistance you require while we present you with detailed information on the 2017 Toyota Land Cruiser so that you are fully aware of the vehicle and its many features. You can get in touch with us at 253-671-6505 and we will be there to offer you the help you need, just as we have offered our services to numerous customers from Covington, Enumclaw, Olympia, and Buckley. We look forward to answering your questions and to hopefully earning your business.


© Copyright Content Motive, 2017.
All Rights Reserved. | Content marketing by Content Motive
Keep your passengers entertained aboard the 2017 Toyota Land Cruiser.
Toyota of Tacoma is happy to hook you up with a test drive of the 2017 Toyota Land Cruiser.