Toyota Corolla Service near Auburn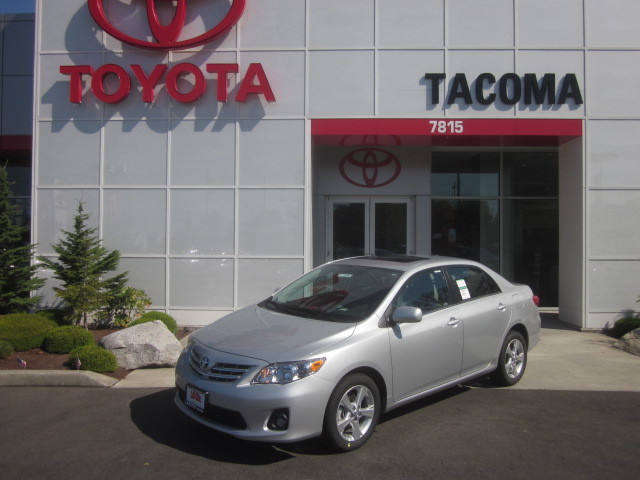 Toyota Corolla service near Auburn is now easy thanks to the Toyota of Tacoma service department. Our fast, reliable, and dependable service for your compact car is second-to-none, and we feature a highly-trained staff that knows your Toyota inside and out. Regardless of your Corolla's needs, we have you covered here at Larson, and we welcome you to stop by where you can get great deals on regularly scheduled maintenance and fair prices on repairs.
For your convenience, we make it easy to schedule Toyota Corolla service near Auburn here at Toyota of Tacoma by offering you an online appointment-making service. Visit our service page and follow the link to appointments, and fill out the required fields. Within 12 hours, one of our friendly staff members will be in contact with you. If you need same day service, we recommend that you call us to explore your scheduling options.
While on our website, feel free to look at our other services and products that we offer with our Toyota Corolla service near Auburn. If your Corolla needs new tires, we can help. Or, if you need to order parts, we have an easy form for that too. Lastly, check out our regular incentives and promotions, many of which you can print out in coupon form. Some terms and conditions may apply, but either way, we like to make the repair and upkeep of your sedan a pleasant and affordable process.
The Toyota Corolla service near Auburn that we offer covers regular maintenance tasks such as oil changes. Getting this done regularly does much in the way of prolonging the life of your car, and we make it easy for you with our fast, reliable service.
When you choose our Toyota Corolla service near Auburn, you will find that we take the time to do the job right. We are well-versed in the 1.8-liter four-cylinder engine that powers your car, and know just how to keep it performing at an optimum level. All of our mechanics are factory-certified, and we use only the best diagnostic equipment. Even if you aren't quite sure what is wrong your Corolla, we can help here at your Toyota dealership service department near Auburn.
Our dedicated and committed staff is both knowledgeable and friendly, and we place a high value on providing you with the best service possible. We are open seven days a week to serve you, and we look forward to earning your trust.