Toyota Corolla Service near Tacoma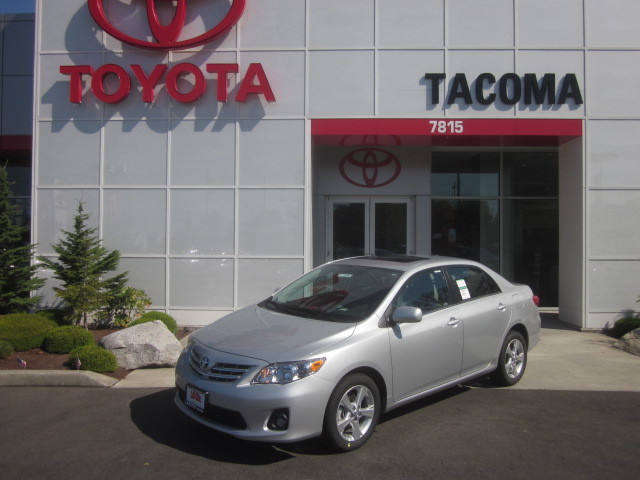 We at your local Toyota dealer would like to take a moment to let you know about our comprehensive Toyota Corolla service near Tacoma. If your stylish and efficient compact isn't running the way it should, we invite you to stop by where one of our skilled technicians can take a look. Even if you need regular maintenance—such as an oil change—we can take care of all your Toyota Corolla needs here at Larson.
Our Toyota Corolla service near Tacoma is second to none, and we take the time to do the job right. No one knows your Corolla better than we do, and we are well-versed in the 1.8-liter four-cylinder engine that powers your car. All of our mechanics are factory-certified, and we use only the best diagnostic equipment. So, even if you aren't quite sure what ails your Corolla, we can help here at your Toyota dealership near Tacoma.
The Toyota Corolla service innear Tacoma that we offer also covers regular maintenance tasks such as oil changes. Getting this done regularly does much in the way of prolonging the life of your car, and we make it easy for you with our fast, reliable service. We understand and respect your busy schedule, and understand that Toyota Corolla service shouldn't be a time-consuming ordeal.
To that end, we make it easy to schedule service for your Corolla here at Toyota of Tacoma by offering you an online appointment-making service. Simply visit our service page and follow the link to appointments, and fill out the required fields. Within 12 hours, one of our friendly representatives will be in contact with you. If you need same day service, we recommend that you call us to explore your options.
While you're online, you are encouraged to look at our other services that we offer in conjunction with our Toyota Corolla service near Tacoma. For example, if your Corolla needs new tires, we can help. Or, if you are interested in any aftermarket additions, products, or services, we can equip many models with those too. Lastly, check out our regular incentives and promotions, many of which you can print out in coupon form.
We are glad to provide you with a no-hassle experience here at Toyota of Tacoma, and our primary concern is your safety and satisfaction. If you feel that your Corolla needs to be looked at, don't hesitate to stop by. We are open seven days a week to serve you.