Toyota FJ Cruiser Service near Tacoma
We at your local Toyota dealer near Tacoma are excited to announce our Toyota FJ Cruiser service near Tacoma. What we offer is wide-ranging, from regular maintenance to many full-fledged repairs. We also boast a well-stocked parts department and tire center for all of your offroad SUV needs. If you wish to bolster your FJ Cruiser, or just want to get the oil changed, we welcome you to stop by.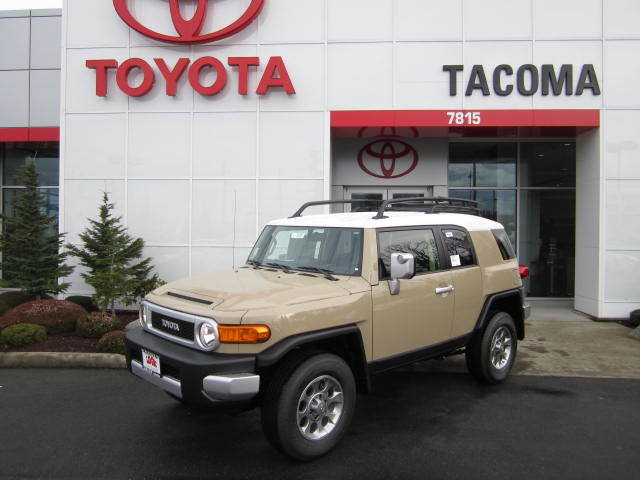 Part of our Toyota FJ Cruiser service near Tacoma involves the aforementioned tire center. We at Toyota of Tacoma carry all of the major brands such as Goodyear, Firestone, Michelin, and Dunlop. If that last trail excursion was a bit too much on your SUV's tires, or you seek to upgrade, we can help. No one knows your FJ Cruiser better than we do, and we can help you find just the right tire to fit your needs.
If your SUV is banged up or has been in a wreck, you will be happy to learn that our Toyota FJ Cruiser service near Tacoma also entails a comprehensive body shop referral service. We have teamed up with some of the best facilities in Western Washington, all of which are state-of-the-art. For your added convenience, you can commence the process online by using our body shop referral page. Simply enter your ZIP code, and we will direct you to shops near you. Once in contact with them, let them know you are one of our customers, and they will take care of all your FJ Cruiser needs.
Oil changes and factory-recommended maintenance are also part of our Toyota FJ Cruiser service near Tacoma. With the former, we make the upkeep on your go-anywhere SUV easy, as regular oil changes prolong the life of your vehicle. Our highly-trained technicians are thorough, and they know just the right products to use. We also check other fluid levels and key engine components during the process, so you can rest easy knowing that your FJ Cruiser is running safely and properly.
If your SUV isn't running properly—even if you aren't sure exactly what the problem is—we can help with our Toyota FJ Cruiser service near Tacoma. We use state-of-the-art diagnostic equipment, and our technicians are factory-certified. You can even make a service appointment online. We are located in Tacoma, WA and proudly serve the Renton, Puyallup, Fife, and greater Seattle areas. We look forward to meeting all of your FJ Cruiser needs.