Toyota Prius v Service near Tacoma
We at Toyota of Tacoma are happy to let you know about our comprehensive Toyota Prius v service near Tacoma. No one is more qualified to work on your hybrid wagon than we are, and we are more than happy to help you with just about all of your automotive needs. Whether it's an oil change or a major engine repair, our factory-certified technicians have you covered here at your Toyota dealer near Tacoma.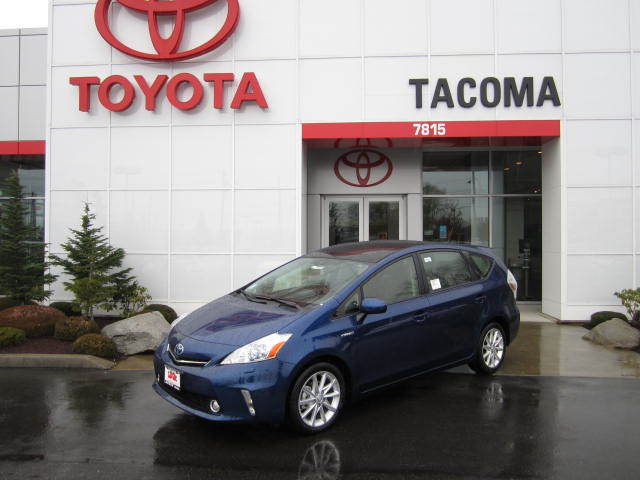 Our tire shop is one convenient branch of the Toyota Prius v service near Tacoma that is worth taking a look at. We offer all of the major brands, from Dunlop to Goodyear to Michelin, and we can help you find the perfect tire for your hybrid. Safety is a priority here at Larson, and we care about what's best for your vehicle. Unlike other service centers, we won't try to sell you a product or service that you don't need for a quick profit. For the record, many of our tires come with a warranty, ask your friendly tire center associate for details.
Oil changes are another part of our Toyota Prius v service near Tacoma. They are important in regards to sustained performance and the overall life of your Prius wagon. You'll be happy to note that we are thorough with our work, as we go over other key parts of your engine to ensure proper working order. Plus, we regularly offer printable coupons for this service. Feel free to check our service specials page to see which offer works best for you. Some terms and conditions apply.
While you're online, we welcome you to peruse our vast inventory of innovative Toyota hybrids. The Prius has set the benchmark for hybrid quality for years, and we have an ample amount in our inventory. Whether you wish to add another to your family of cars, or you are interested in buying one for the first time, we have it here at Larson.
We also perform factory-recommended maintenance here as part of our Toyota Prius v service near Tacoma. Your car will benefit from our detailed multi-point inspection, and we leave no stone unturned. Even if you aren't quite sure as to what you need at which mileage milestone, we are well-versed in Toyota's recommendations and will ensure that your Prius v is running properly. Our service department is open seven days a week, and we look forward to helping you with all of your Prius needs.